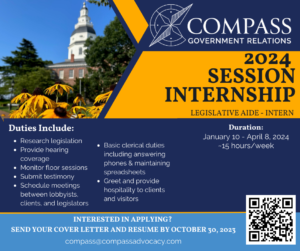 Compass Government Relations Partners are looking for a reliable and motivated intern with an interest in government, policy, and Maryland politics. Interest and experience in social media content creation is a plus. Excellent candidates for this position are personable, and willing to follow directions working individually or as part of a team. Candidates should excel in a fast-paced, high-pressure work environment, and possess excellent writing and time management skills.
Candidates will be required to work a minimum of 15 hours/week required during Session (January-April), &
should have availability Tuesdays-Fridays from 9:00am – 4:00pm.
To apply: Please send a cover letter, resume, and 2 professional references to compass@compassadvocacy.com with subject line: "Compass Intern Application".
Application Deadline: October 30, 2023.