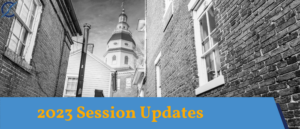 We are almost halfway through Maryland's 90-Day Session. Here's what Maryland is tracking, and what's coming up:
Cannabis
Cannabis is a blazing topic this session after voters legalized recreational marijuana via referendum on November's ballot. Starting July 1st, anyone over the age of 21 will be able to possess marijuana for personal use. The question before the legislature in this session is how to implement this throughout the state. Co-sponsors of the Cannabis Reform bill held a workgroup last Friday to discuss how much of the implementation would work. Highlights of the hearing included the prioritization of social equity throughout each implementation step.
Gun Control
After the Supreme Court ruling on New York v Bruen, key legislators in Maryland have decided to revisit gun control laws. The SCOTUS ruling changed the way courts evaluate the constitutionality of state gun control laws. The bills before the Maryland Legislature attempt to continue to restrict gun access and concealed carry permits while attempting to follow the new standard by the Supreme Court. A number of bills came before the Senate Committee for a contentious 11-hour hearing on February 7th. The next step is for the Senate committee to vote on bills.
Budget Process
The budget process is underway in Maryland with new excitement as the Legislature has more say in Budget negotiations. Previously under Republican Governor Larry Hogan, the party divide between the Governor's office and state legislature meant that legislators had to fight for what they wanted in Hogan's budget. Now, with new Democratic Governor Wes Moore, the legislator has an easier path to prioritizing their agendas in this year's budget. Subcommittees that unpack the budget have already started meeting, but we are anticipating more discussions in the coming weeks.
Mental Health Funding
While all of these issues will continue to be debated throughout the coming months, we wanted to highlight the stand the Senate took regarding the first bill they passed. Senate Bill 003 also known as the 9-8-8 Trust Fund – Funding was passed on January 30th. The 988 Trust Fund was created by legislation passed last session with stipulations that it would receive around $5 million in funding. This bill, if passed by the House, will more than double the required funding to $12 million by 2025. This is an important message from the Senate about prioritizing mental health and could be an indicator of the success of other mental health bills coming before the body.