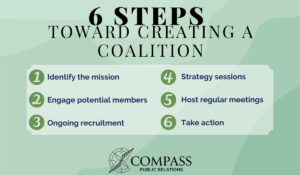 A coalition is the "joining of forces" between two or more independent organizations with shared interests. Coalitions are a great way to garner influence over specific subject matter because they can exert more power than a single organization alone. However, building and maintaining a coalition can feel like a daunting task.
Here are 6 steps toward creating sustainable coalitions:
Identify the coalition's mission: Start by identifying a common goal or issue that brings potential members together. This can be a shared interest, a common problem, or a specific objective that can be better achieved through collective action.
Engage potential members: Identify individuals or organizations that share a common interest in the coalition's mission. Reach out to them to gauge their interest, emphasizing the value of collaboration.
Ongoing recruitment: Coalition building is an ongoing process that requires active engagement and recruitment. By continuously adding to your membership base, the coalition broadens its expertise, increases influence and power, and expands resources and opportunities. Ongoing recruitment sustains momentum towards the coalition's shared goal.
Strategy sessions: Once the coalition has a membership base, hosting strategy sessions can help members align goals and strategies. It's imperative that each member knows their defined role in the coalition. Strategy sessions offer a space to build relationships and trust with other members, share knowledge and expertise, facilitate goal alignment, and create actionable plans.
Host regular meetings: Regularly scheduled meetings allow coalition members the opportunity to communicate, exchange information, and collectively make decisions. Bringing members together provides a platform for open dialogues and the exploration of differing viewpoints. Regular meetings also allow members to take an active role in monitoring the progress of the coalition.
Take action: There are many ways in which coalitions can take action toward their goals- whether it's advocating for legal reform, mobilizing supporters, conducting community outreach, or legislatively! Engage in government advocacy efforts by mobilizing supporters, hosting lobby days, or creating awareness campaigns.
---
Overall, forming a coalition requires overcoming various challenges, including building trust and managing several interests. Coalitions are imperative for increasing political leverage and power towards a common goal. By amplifying individual voices through collaboration, coalitions can increase the chances of influencing policy outcomes and/or achieving shared goals.