Patch Thru Phone Calls: What and How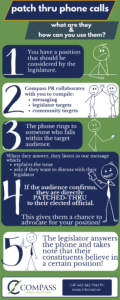 Patch- through phone calls (PTP Calls) are an important grassroots advocacy tool. It is a simple way to connect individuals to the elected officials that represent them to advocate for issues or policies of all kinds.
Compass PR has executed PTP Calls on behalf of clients since 2019 with great success, contact us to start the conversation before Session 2024!
https://mailchi.mp/compassadvocacy/compass-pr-navigator-july-9085352