Daily Record's Power 40 in Government & Lobbying: Hannah Garagiola
These are the 40 whom we believe are the most powerful in the state.
– the Daily Record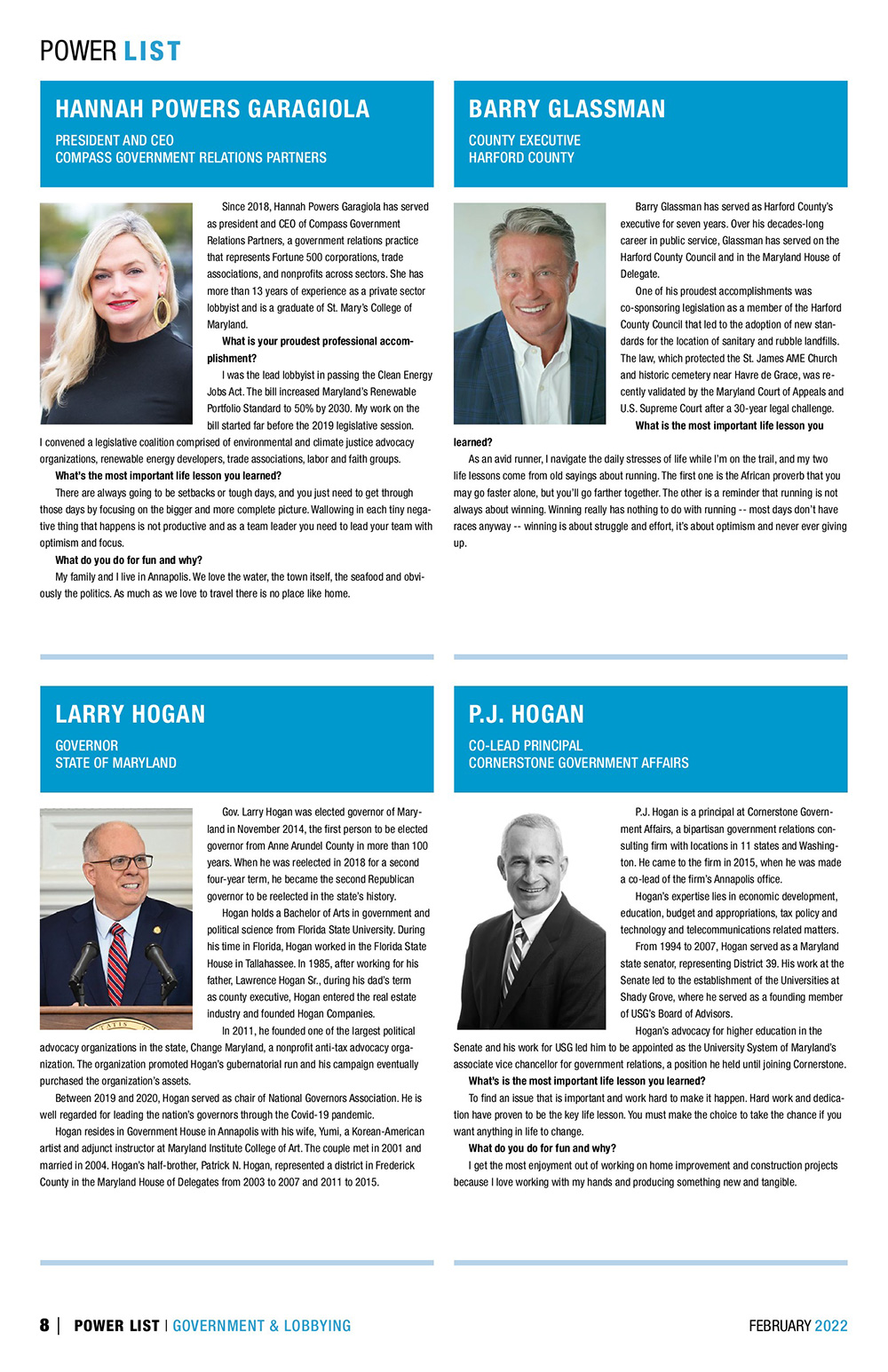 Author: Daily Record Staff
February 25, 2022
Hannah Powers Garagiola
President and CEO
Compass Government Relations Partners
Since 2018, Hannah Powers Garagiola has served as president and CEO of Compass Government Relations Partners, a government relations practice that represents Fortune 500 corporations, trade associations, and nonprofits across sectors. She has more than 13 years of experience as a private sector lobbyist and is a graduate of St. Mary's College of Maryland.
What is your proudest professional accomplishment?
I was the lead lobbyist in passing the Clean Energy Jobs Act. The bill increased Maryland's Renewable Portfolio Standard to 50% by 2030. My work on the bill started far before the 2019 legislative session. I convened a legislative coalition comprised of environmental and climate justice advocacy organizations, renewable energy developers, trade associations, labor and faith groups.
What's the most important life lesson you learned?
There are always going to be setbacks or tough days, and you just need to get through those days by focusing on the bigger and more complete picture. Wallowing in each tiny negative thing that happens is not productive and as a team leader you need to lead your team with optimism and focus.
What do you do for fun and why?
My family and I live in Annapolis. We love the water, the town itself, the seafood and obviously the politics. As much as we love to travel there is no place like home.
---
Article linked here: https://thedailyrecord.com/2022/02/25/introducing-the-daily-records-power-40-government-lobbying/