Congratulations Compass' Louis Leibowitz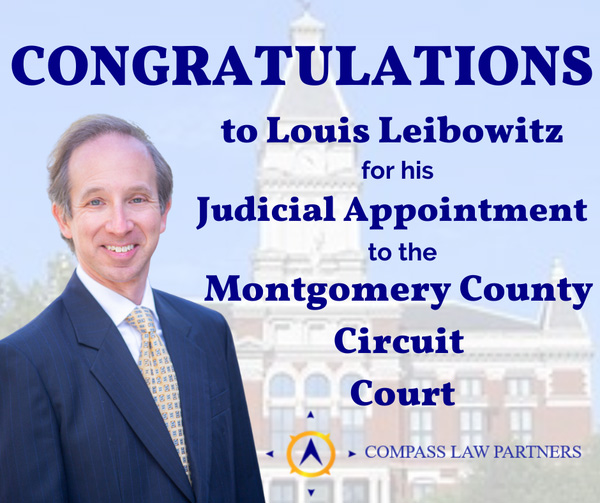 Governor Larry Hogan has appointed Louis to the Circuit Court for Montgomery County.
Louis has been an Of Counsel of Compass Law Partners since 2020 and has been a solo practitioner operating under the name Law Offices of Louis M. Leibowitz since 2011. He focuses his practice on civil litigation, family law, and criminal defense in the state and federal courts of Maryland and the District of Columbia.
Prior to starting his practice, Louis served as a public defender in Montgomery County, where he tried hundreds of bench and jury trials. During this time, he handled criminal matters including traffic tickets, drug cases, and major felonies. While in private practice, Leibowitz won a first-degree murder trial believed to be the first total acquittal on first-degree murder charges in Montgomery County in over a decade.
Leibowitz previously served as a litigation associate at Stein, Sperling, Bennett, DeJong & Greenfeig, P.C., where he represented community associations and municipalities in a variety of litigation matters including land use litigation. He began his career as a law clerk for the Honorable Gerald I. Fisher in the District of Columbia Superior Court.
Congratulations Louis! Link to Press Release: https://governor.maryland.gov/2022/04/20/photo-release-governor-hogan-swears-in-judge-anne-k-albright-to-the-court-of-special-appeals-names-four-to-circuit-courts-for-baltimore-city-montgomery-county/