Back to School Time!!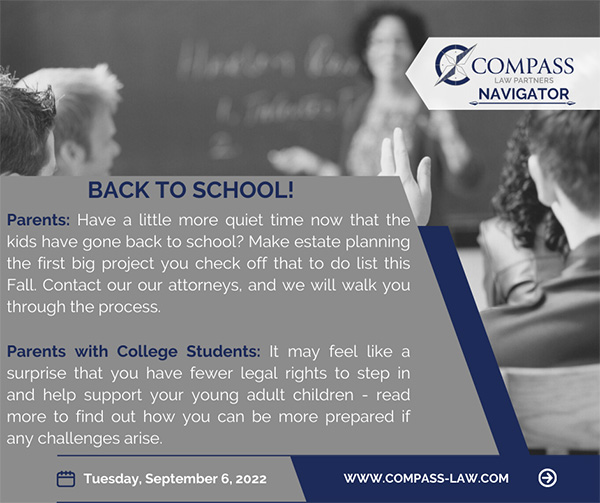 Parents
I, like many other parents, look forward to the kids heading back to school…not because I don't love them but more because towards the end of the summer, they are just a bit much.
Now that the kids are back in school, you have time to focus on projects you have been putting off (for years) – including estate planning (Wills, Financial Powers of Attorney, Health Care Powers of Attorney, etc.).
Estate planning is the one extremely important service that is constantly kicked down the road.  It is likely that whenever you see a television show or movie with reference to a Will, you say "I/We need to do that."  Then, that thought passes and the millions of other thoughts take over.
I am writing this to tell you that you should stop delaying and just contact Compass Law Partners.  The attorneys at Compass Law Partners will walk you through the process and make it as easy and understandable as possible.   If you make that call, not only will you be protecting your family, but you will never have to have that moment again where you say, "I/We need to do that."  Instead, you can say, "I'm so glad we did that."
College Students
Do you have a child in college?  Do you want to make sure you have the authority to speak with your child's school (since you are paying his/her tuition) or with your child's medical provider/therapist?
Well, surprise, you cannot.  Your child may still look like the fun 3-year-old (in my opinion, the best age) but, legally, he/she is an adult and must provide authorization to any medical providers and school administrators to speak with you.  The easiest way to provide that authorization is to have your college student sign a Financial Power of Attorney and a Healthcare Power of Attorney.
Although it is likely your child is already in school, this can still be accomplished using video conferencing.  Compass Law Partners has the technology and know-how to meet with clients through video conferencing software.  Then, your child can sign his/her documents when he/she visits you (a great reason to get them to visit).  Or, alternatively, Maryland law now allows Maryland residents to sign estate planning documents virtually. The attorneys at Compass Law Partners have experience in virtual signings and can easily guide your child through the process.
Now is the time to make sure you remain an important part of your child's life.  Do not hesitate to contact Compass Law Partners to set up a consultation today.